BeamClamp Components Type BY and BYP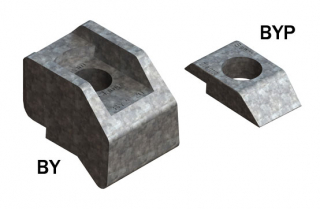 Overview
The Type BY clamp is designed for High Friction and Tensile applications that exceed the capacities of the standard BeamClamp products. It features a recessed top that prevents the head of the bolt from rotating during installation therefore requires the use of only one wrench. The Type BYP washer can be used to fill in the recess of the Type BY to provide a flat surface for a washer and nut. This also allows the Type BY clamps to be used together in beam to beam connections. The full width tail of the BY allows for use with slotted holes for greater diversity in applications.
Hot Dip Galvanized to BS EN ISO 1461
Manufactured from Ductile Iron to BS EN 1563
The BY recess is suitable for the hexagonal head of Grade 8.8 and 10.9 bolts. The Type BYP may be used to fill in the recess allowing for any grade bolt or nut to be tightened down to its surface.
Product FAQs
Answer: The BY Clamp has much larger sections than our standard clamps which allow it to be tightened up to much higher torques. This increases the clamping force considerably onto the steel and therefore increases the frictional slip capacity. The BY can be used with grade 8.8 or 10.9 bolts and for increased frictional capacity A490 bolts and apply a higher torque.
Answer: The BYP is used to fill in the recess of the BY and convert it to a flat top clamp. This allows two BY's to be used together and only one wrench to tighten the connection.
Answer: The frictional failure mode is when the connection is measured to have moved 1mm or 0,039" from its original position. The safety factor of 2 to 1 is then applied to this load, therefore, the test load we publish is at half that of the point where the connection even moves 1mm.
Answer: Yes, our BF3,BF4 and BH2 packing pieces are specificall designed for use with our BY. A calculation chart is available at our resources section under "Specifying Beamclamp", this shows what tail lengths and packing pieces are required.