BeamClamp Components Type BT and BW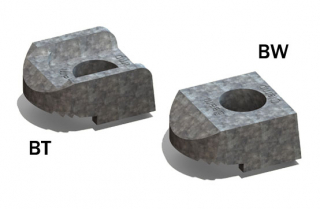 Overview
The types BT and BW are specifically designed with a 10 degrees sloping nose. This sloping nose makes them ideal for clamping on to tapered steel such as IPE's or crane rail sections. The type BT has a recessed top to captivate the head of a grade 8.8 setscrew or bolt. The type BW has a flat top to allow a nut and washer to be tightened down on it. Both clamps are available with two tail lengths, 1 or 2 (dim E). This should be as near to the thickness of steel it is clamping to or slightly less if an exact match is not possible. Packing pieces BF1, BG1 and BH1 can be used in combination with the tail length to achieve a match to the steel flange. The types BT and BW can also be used on their own if one piece of the steel has been pre-drilled. To simplify the selection of tail lengths and packing pieces, please see our selection tables in our resources area.
Hot Dip Galvanized to BS EN ISO 1461
Manufactured from Ductile Iron to BS EN 1563
5 to 1 Factor of Safety
10 degree nose
Product FAQs
Answer: The recess is used to captivate a hexagon head of a bolt or nut to stop it spinning and allow tightening to take place by using one wrench only.
Answer: Our BT/BW Clamps have a specific tail length that are given as dimension E in our technical information. The tail length is used in combination with the thickness of our packing shims to ensure the clamp can connect as close to 90 degrees to the steel flange as possible. Our BT and BW Clamps have two tail lengths 1 and 2. A calculation chart is available in our catalogue or in our resources section under "Specifying Beamclamp", alternatively if you need assistance please contact our technical department.
Answer: No. The BT or BW can be used on their own when only clamping to one steel section. In this situation the BT is generally used to ease installation as tightening can be achieved using one tool only. A BW can be used it just means two wrench's are required for installation.
Answer: The BF1, BG1 and BH1 are all designed to work with the BT/BW Clamps. The packings are used to ensure the clamp is secured as close to 90 degrees onto the steel as possible.