FloorFix HT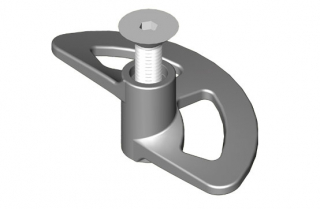 Overview
FLOORFIX HT has been developed following customer feedback to provide a clamp with increased functionality to suit a wider range of applications. Floorfix HT is designed to clamp flooring plate to supporting steel from the topside only without the need for time consuming on-site drilling, tapping, bolting or welding. It works on a cam mechanism that can be operated using a basic hexagon key drive.
Floorfix HT is so named because it allows steel erectors a high degree of tolerance. It retains all the benefits of our widely renowned original design but it is far more user friendly. Floorfix HT allows for floor plates to be connected to new steel that is erected within +/- 6mm of its intended position. It is capable of connecting to steel flanges from 3 to 25mm without the need for additional packing pieces.
Allows for +/- 6mm construction tolerance
Can clamp up to 25mm thick steel as standard
Hot Dip Galvanized finish as standard
Easily installed from the top side only
No drilling, tapping or welding required
Allows easy repositioning or lifting of floor plate
No special tools or skilled labor required
No access to the underside required
Tested for vibration conditions at TÜV
Floorfix HT has been tested for vibration conditions to simulate the most common applications where the clamps would be used, e.g. walkways, machine shops and press shops. Please ask our technical department for a copy of the certificate, should you require this.
FloorFix HT Installation Instructions
Step 1 Assemble the Floorfix HT to the underside of the floor plate making sure the markings "THIS WAY UP" are facing the underside. Loosely tighten the bolt making sure the flat edge of the clamp is in line with the edge of the steel it is going to connect to.
Step 2 Lower the plate in to position over the supporting steelwork.
Step 3 Once the floor plate is in the desired position, rotate the countersunk bolt one full turn counter-clockwise.
Step 4 Tighten the countersunk screw until the plate is secured. For guaranteed performance, use the recommended tightening torques given in our technical tables.
Note 1 We recommend using the M12 version when vibration conditions are incurred as this can be tightened to a higher torque.
Note 2 If the steel being connected to is thicker than 25mm then we can supply packers and a longer bolt to increase the clamping range.