Quality & Standards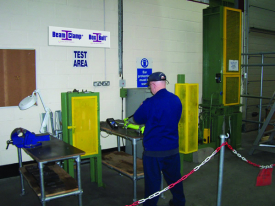 Quality
Kee Safety prides itself on providing a quality product that is compliant to all relevant approvals and legislation specific for the market it will be used in.
Kee Safety aims to lead the market in new product development and has the facilities in-house to perform prototyping and product testing to make sure that the right product gets to the market as quickly as possible. We have a dedicated testing and training area within our group for this type of work alongside our regular day to day quality testing.
Testing
All our products are subjected to quality checks and batch testing. Those products that are not approved by the below approvals are third party tested and continue to be tested on a regular basis to ensure high quality standards are achieved. These standards are detailed on the individual product pages in our full technical brochures. With our in house testing equipment we can also look at individual applications and design a bespoke solution to our clients requests.
Approvals
The BeamClamp® and BoxBolt® products are approved by Lloyds Register Type and DIBt . These approval bodies regularly audit our manufacturing and quality facilities to ensure we follow the strict guidelines imposed to maintain our approvals from their company.
Llyods Register Type Approval
Lloyd's Register Type Approval is an impartial certification service providing independent third-party Type Approval certificates attesting to a product's conformity with specific standards or specifications, and verification of an appropriate production quality system. An extensive range of our products are approved for tensile and frictional applications to this approval.
Deutsches Insitut fur Bautechnik (DIBt)
The Deutsches Institut für Bautechnik (DIBt) provides national technical approvals for construction products and types of construction, for which there are no generally acknowledged rules of technology, DIN standards in particular, or which deviate considerably from these. They are reliable verifications of applicability of construction products and verifications of applicability of types of construction relating to requirements of construction works in the field of construction engineering.