BeamClamp Components Type BC1 and BD1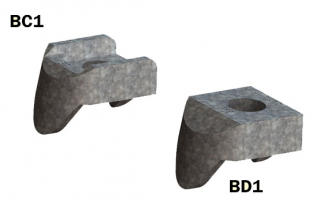 Overview
The types BC1 and BD1 are designed to hook over the upstanding flanges of angles or channels. They can be used together for channel to channel connections or in conjunction with our other clamping products for making angle/channel connections to other types of steel. The BC1 features a recessed top to grip a bolt head and the BD1 has a flat top to allow a nut and washer to be tightened on to it. It is suitable for use with bolts, threaded rod or other threaded items but we always recommend the use of grade 8.8 high tensile threaded items. See the video of typical application for these products.
Hot Dip Galvanized to BS EN ISO 1461
Manufactured from Ductile Iron to BS EN 1563
5 to 1 Factor of Safety
Lloyds Register approved
Note: These products are not recommended for frictional loads
Product FAQs
Answer: The recess is used to captivate a hexagon head of a bolt or nut to stop it spinning and allow tightening to take place by using one wrench only.
Answer: The BC and BD are used for securing angles and channels to other steel sections in tensile or positional applications.
Answer: Yes. The BC and BD can be combined with other BeamClamp products to secure angles and channels. Typically the BC (Recessed) would be used with a BB,BK or BW (Flat top) Clamp and the BD with a BA or BT Recessed Clamp in combination.
Answer: The BC/BD are approved for use in tensile or positional applications by Lloyds Register Type Approval.