Fast-Fit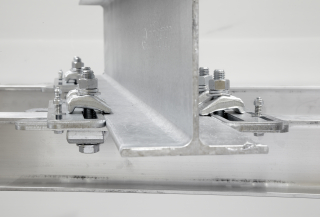 Overview
Fast Fit is an off the shelf engineered clamping solution to connect two steel sections together without the need for onsite drilling or welding. All you need to secure two sections together comes in one box. The system comprises a frame which wraps around the edges of the sections and slides into place to provide a position for the clamps to be secured. The system allows for varying angles that can be easily achieved by sliding the beams relative to each other. The Fast Fit system delivers a guaranteed connection everytime without the need for on-site testing or relying on the skills of the installer. No removal of the protective coatings on the existing steel or holes is needed to make a connection. All that is required to complete a connection are simple hand tools and semi-skilled labour. Watch this video to see how quick and easy the Fast Fit system is to install.
No drilling or welding of existing or new steel
Allows for varying cross over angles
Guaranteed Safe Working load
Flush connection between both steel sections
Independently load tested
Product FAQs
Answer: Yes the Fast Fit system can allow for angle cross overs of up to 45 degrees but this depends on the widths of the steel that is being connected. Please see technical table for the widths and angles that can be achieved.
Answer: No the Fast Fit system wraps around the two sections of steel that can sit flush against each other.
Answer: Fast Fit takes less than five minutes to install, see the video on the resources section of this website.