Fast-Fit Launch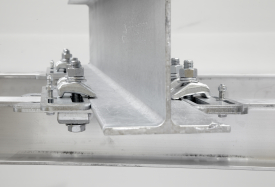 Fast-Fit
Kee Safety has introduced the Fast-Fit to its BeamClamp range - a new, ultra-quick, off-the-shelf connection system for connecting steel sections together in construction and civil engineering applications without the need for drilling or welding.
Fast-Fit is a clamping solution which comprises a frame designed to wrap around the edges of the two steelwork sections, before sliding into place. This frame allows clamps to be quickly secured into place, ensuring a secure steel to steel connection. Varying angles can easily be achieved by sliding the beams relative to each other, and steel members can be quickly and easily re-aligned, if required.
Video - Fast-Fit system in action
A video of the installation can be seen by following the link. The installation takes less than five minutes and when you compare it to the amount of time that would be required to drill or weld, it is clear that Fast-Fit allows you to make considerable savings in installation time, labour and cost.
Fast-Fit System
The Fast-Fit system delivers a guaranteed connection without the need for on-site testing. Protective coatings on existing steelwork are maintained and no holes are needed to make the connection, so the structure retains its original strength and durability. As a clamping solution, FAST FIT also eliminates the requirement for specialist skilled labour, saving time and cost on site.
"FAST FIT will save time and hassle on construction sites," says Matt Jordan, Group Product Manager at Kee Safety. "Supplied as a kit solution in a single box, it provides a fast, versatile and safe option for connecting steelwork together, without risking any damage to the integrity of the structure. It's a solution that contractors and engineers can rely on."
FAST FIT's clever "patent pending" design means that steel sections can be connected extremely quickly in comparison to traditional methods, without the need for on-site power or hot work permits. It also eliminates the requirement for specialist skilled labour, saving time and cost on site.