Pulley Track for Temporary Construction Pulley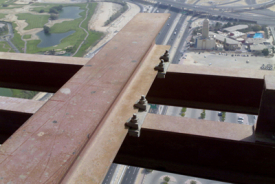 Construction required tracks for a gliding pulley rig. The pulley rig needed to be hung temporarily in order to relocate materials from the ground to the top floors.
BEAMCLAMP safe steelwork connection clamps were used to hang the track on permanent structural beams without drilling or welding. Once the track was no longer needed, it was easily removed due to the use of simple nut and bolt technology in the design of BEAMCLAMP steelwork connection solutions.