FloorfixHT used at Warburtons super bakery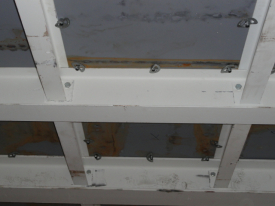 The BeamClamp FloorfixHT from Kee Safety was used on the new expansion of the Warburton's Super Bakery in Bristol. The existing Warburtons Bakery was extended with a 100 tonne portal frame which included a mezzanine floor to provide extra space for baking ovens and other equipment.
The mezzanine has been erected using 8mm thick steel floor plate to span the steel frame and was secured into its final position using the M10 FloorfixHT. Once the floor plate was secured into position the whole floor was then covered in a waterproof screed.
The FloorfixHT (High Tolerance) was designed to provide more flexibility than the original Floorfix for new build applications where the steel sections can move from the exact designed position due to steelwork erection tolerances. The flexibility provides a +/- 6mm difference from the original centre lines of the steel and will still provide a secure connection.
The FloorfixHT provides a solution for securing down steel floor from the top side only without having to do any hot work on site or create any debris from drilling which is important especially in the food industry. The product works on a cam system that once tightened provides a secure connection that will not work loose under vibration conditions created by walking/driving over the floor or for the vibrations created by machinery. Testing at TUV has been carried out to confirm this.
The cam system also works in reverse to allow for easy maintenance, when the product is un-tightened it aligns itself in to its original position for easily lifting of the plates and accessing the underneath.